22 March 2018.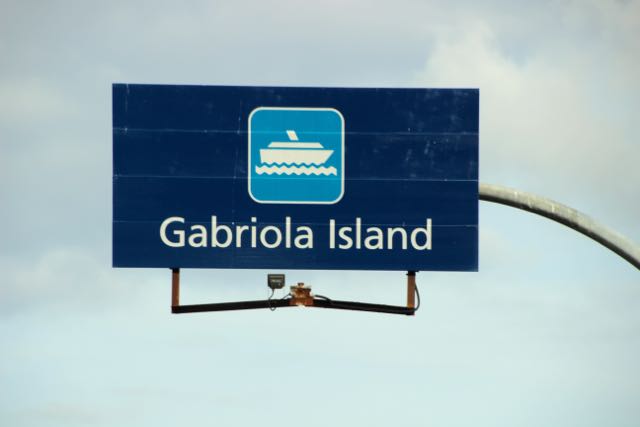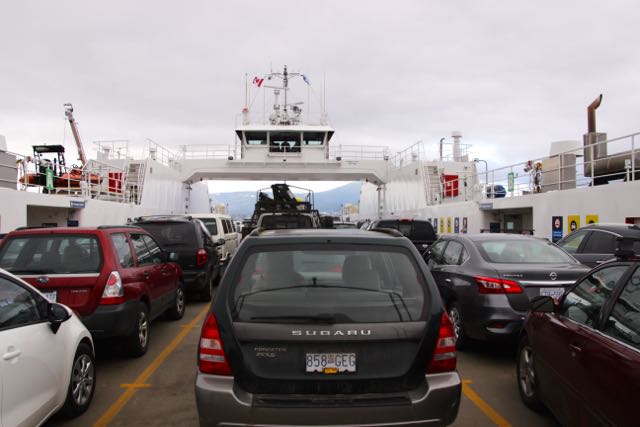 Bugger. We knew the ferry between Nanaimo and Gabriola Island could carry about 70 cars. We'd even arrived 30 minutes early to queue but when boarding commences, I start counting. I'm a counting type. The first 70 cars slowly crawl aboard. You can almost hear the smugness radiating from those drivers. We're 75th in the queue. Bugger again. The parking attendant looks the part. He motions to vehicles with a glowing night stick and mumbles into a walkie-talkie. A crackling voice replies from the ferry. Mr Glow Stick smiles, and motions for 2 more vehicles to drive around the long ramp and board. Please, 3 more. There's more mumbles into the device, then another smile. He motions for the next 2 to board. Bugger. We're at the front of the line. C'mon, one more. Then he's back on the walkie-talkie… it's looking good! I'm waiting for the smile. It doesn't appear. He holsters his glow stick, presses a button and the boom gates descend. Next ferry to Gabriola leaves in an hour and a quarter. Bugger some more!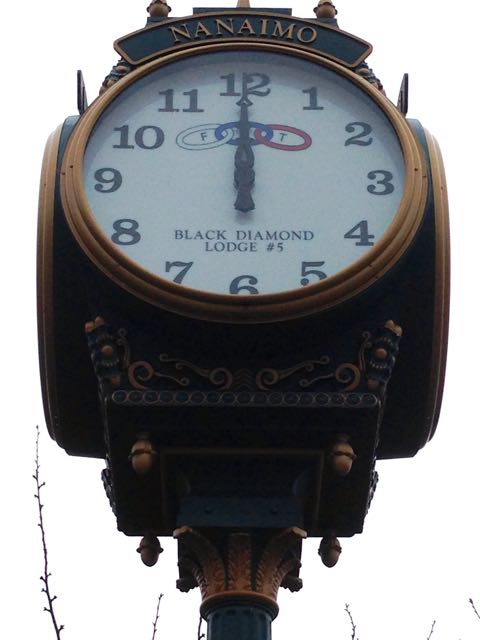 So we exit the car, leaving it at the head of the queue, and stroll across to a nearby grocery store to purchase more wine and other supplies whilst in Nanaimo. The guy in the car behind has the same idea. I joke with him about missing the ferry, using the well-worn Maxwell Smart phrase, "Missed it by that much!" He smiles knowingly and says, as a resident, it's often happened to him over the years, but sometimes he's also the last one on, so it all gets counterbalanced in the big scheme of things. Then he adds laconically, "If you worry about time and ferries, you probably shouldn't be on Gabriola." Point taken!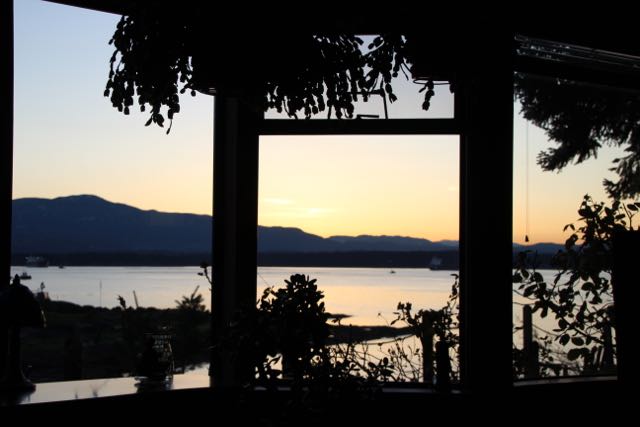 A room with a view. Our loungeroom.
After the excitement and energy generated by 2 weeks skiing in Whistler, we were exchanging homes again. A moment ago I was riding bucking broncos down the back of Mt Whistler. Now I'm riding the carousel. This time we were seguing into the snail pace of life in a waterfront home on Gabriola Island for a month.
Shelling out a miniscule $2.80 for the 25 minute SkyTrain from downtown Vancouver to the airport, we once again commented acidly on the government sanctioned thievery in Sydney where passengers pay $16 for a shorter distance. Our flight from Vancouver to Nanaimo required a one hour check-in, then we taxied on the runway for 10 minutes, and our flight across the Strait of Georgia took exactly 13 minutes! We collected our rental car, reacquainted ourselves with driving on the right (wrong) side of the road, and headed to the Gabriola ferry.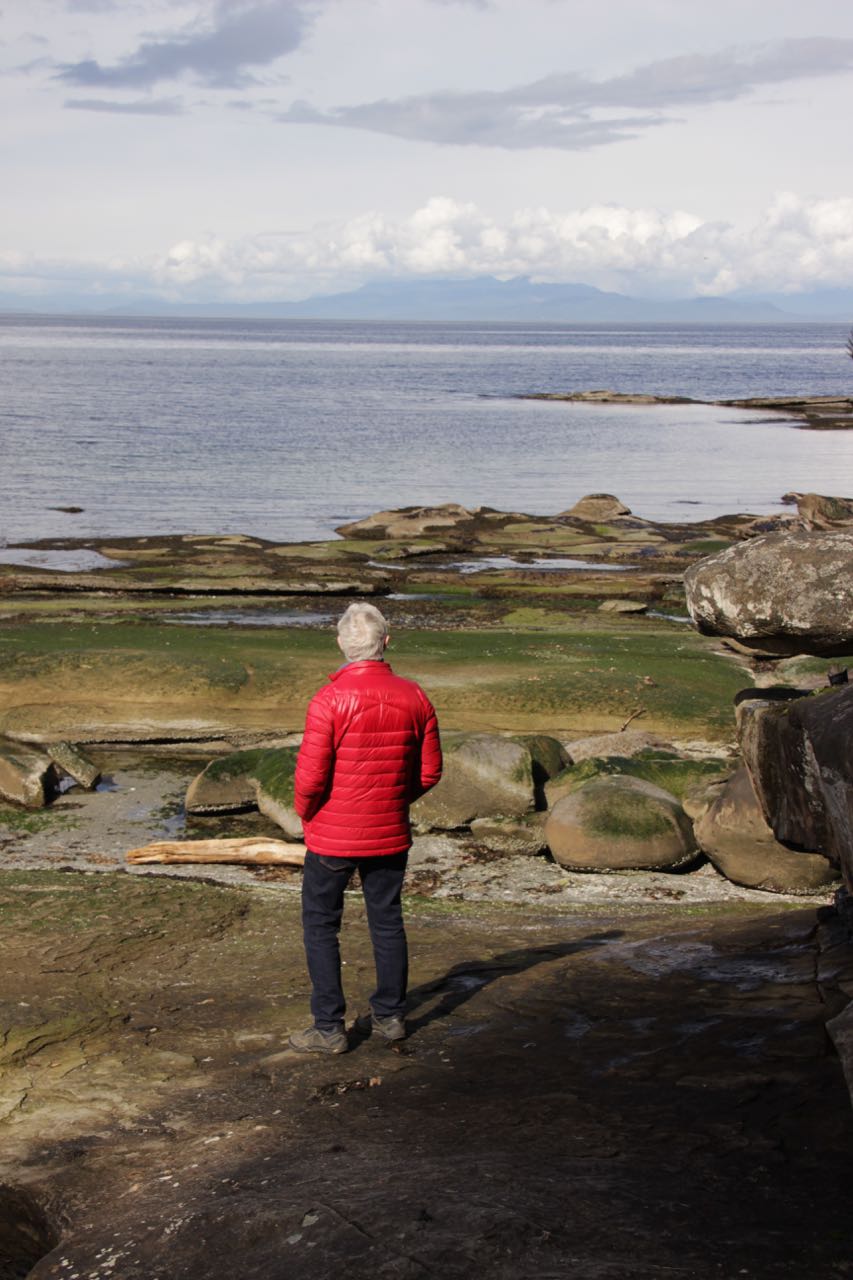 Looking eastwards towards mainland Canada.
Gabriola Island is home to an interesting potpourri of 4500 residents. It sits 5 km off the coast of the big island (Vancouver Island) and is about 14 km long and 4 km wide. The link to the small city of Nanaimo is by ferry. There isn't really a defined residential area as houses are scattered throughout the island amongst heavy forests, but waterfront homes and land tends to be the most desirable and expensive. There is petroglyph evidence of early dwellers dating back thousands of years, then the Snuneymux people were decimated by smallpox after European contact in the 1700s and 1800s. In the early 1900s, there were a few European settlers with First Nations wives. By the 1950s, when electricity came to the island, there were about 400 residents. Wikipedia tells me that in the 1970s, the island became a honeypot for hippies, mostly from the USA, when the population tripled. Today, people from all walks of life and occupations live here. There is a still a decidedly "hippie" feel to the island, and a plethora of artisans and galleries, despite the mélange of homes ranging from small, run-down log cabins to multi-million dollar mansions. I guess these 1970s "hippies" would now be some of the elder statespeople on the island as they're now in their 70s, and through no fault or aspiration of their own, many would have million dollar water view properties. What a ride through life huh? One minute you're smoking dope, attempting self-sufficiency, and communing with nature, next thing you're a wealthy capitalist landowner by default.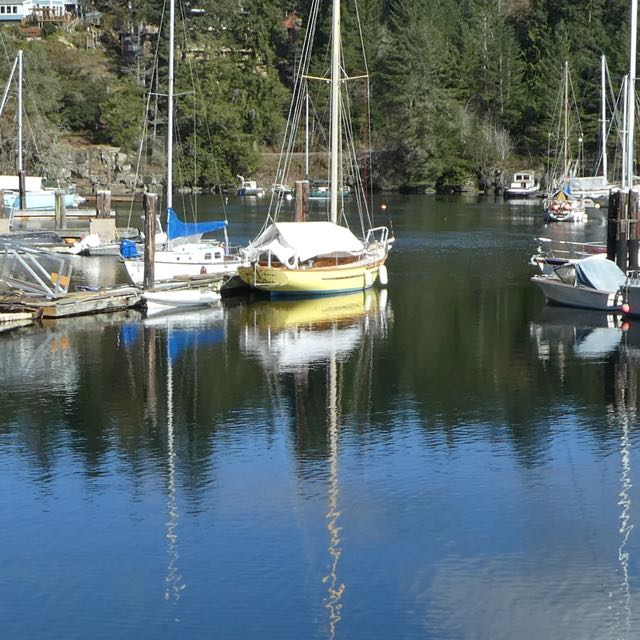 Boats in Degnen Bay, Gabriola Island.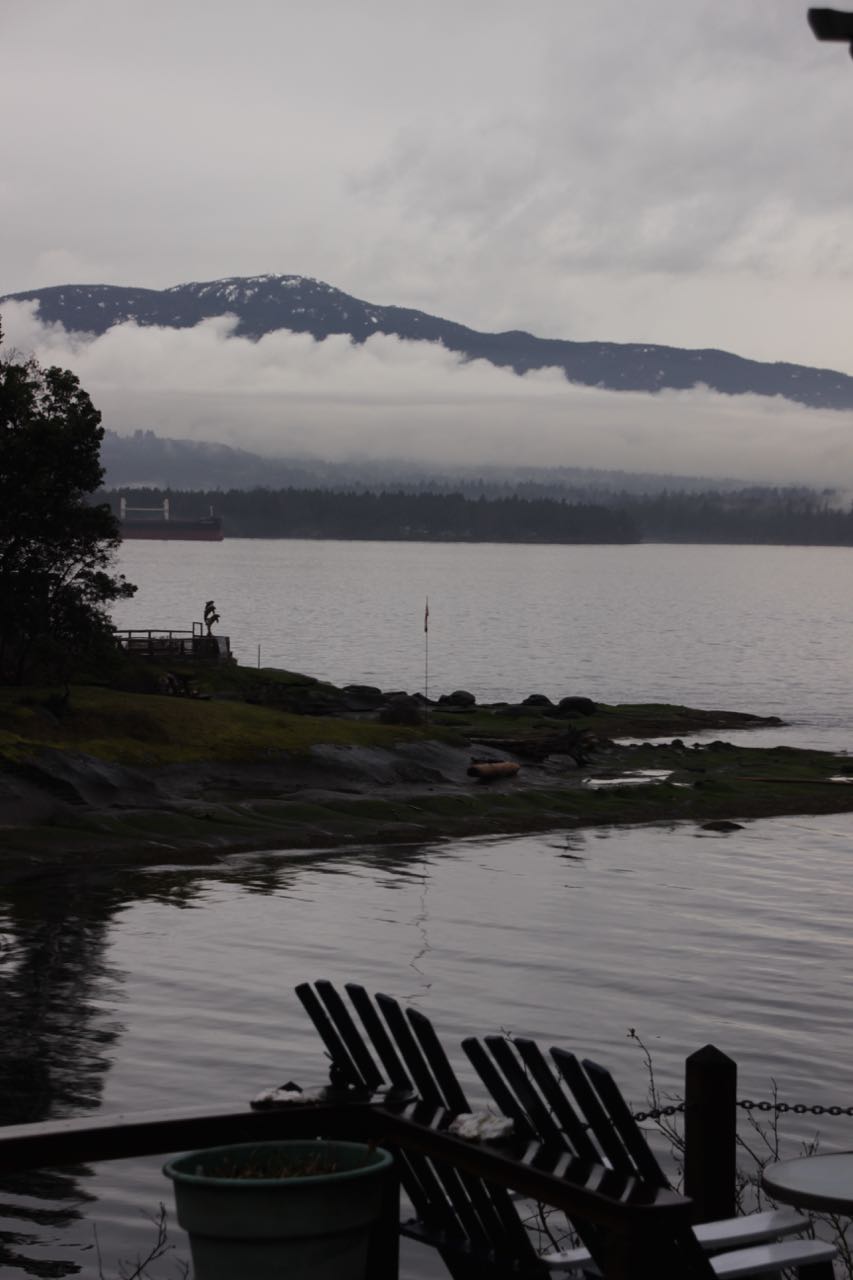 Watching clouds settle on Mt Benson, from our deck.
Team Panini can feel our lives slowing, slowing, slow….
Our days are usually spent walking, exploring, reading, writing, sitting by the fire, talking, observing wildlife, taking in the spectacular vista in front of us, celebrating the setting sun with a glass of wine. Canadians are lucky to have me supervising the setting of the sun. And Jeanne Panini to celebrate that event with ritual wine o'clocks. Great sunset, Pardy. Well done. Clink. While the Canadian home owners, Denis and Nancy, are currently in our Sapphire Beach home experiencing the wildlife and humid weather in a sub-tropical part of the world, we are relishing the peace and beauty of their home, its spectacular vista and its local environment. Home exchange allows an affordable small step into other places and lifestyles without burning bridges. We get to live like locals; something that a hotel stay can never come close to.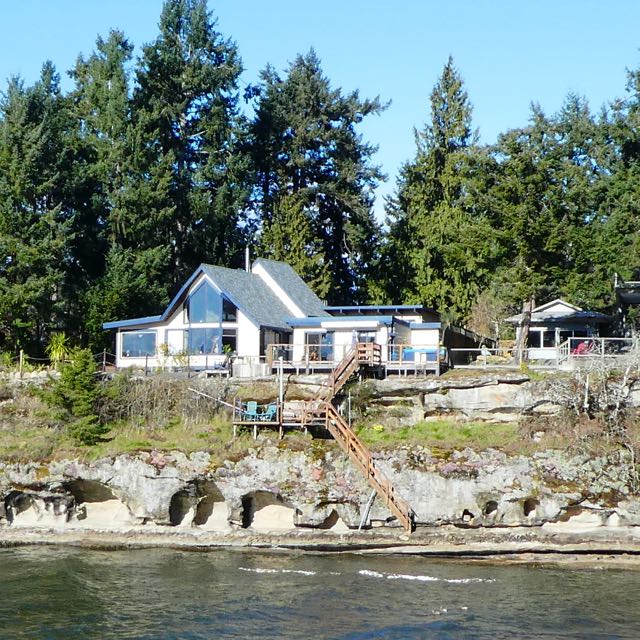 Our home from the water.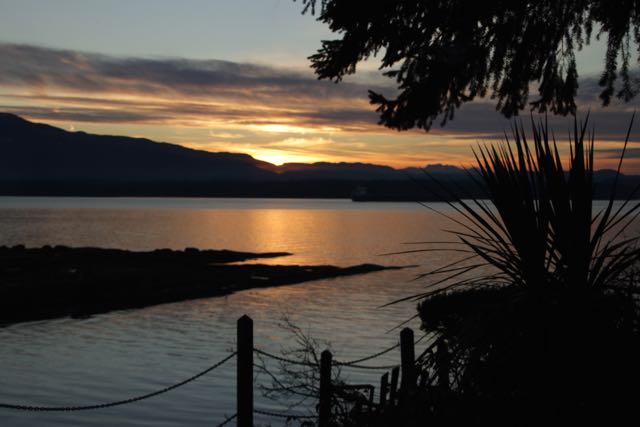 Our view at sunset. Well done Pardy. Clink.
The eternal rhythm of the tides changes our view constantly. We watch seals, ducks, Canada Geese, hummingbirds, gulls, ravens. We are reliably informed that there are sea otters nearby, and the ever-present pods of Orcas which patrol the Salish Sea and Strait of Georgia. They pass close by our home but, at this point, we haven't spotted their telltale black dorsal fins protruding from the water. Orcas are at the apex of the food chain off Gabriola. Have you ever seen the David Attenborough footage of orcas plucking seals off beaches? Needless to say, you won't find the Paninis basking on the rocky shores here.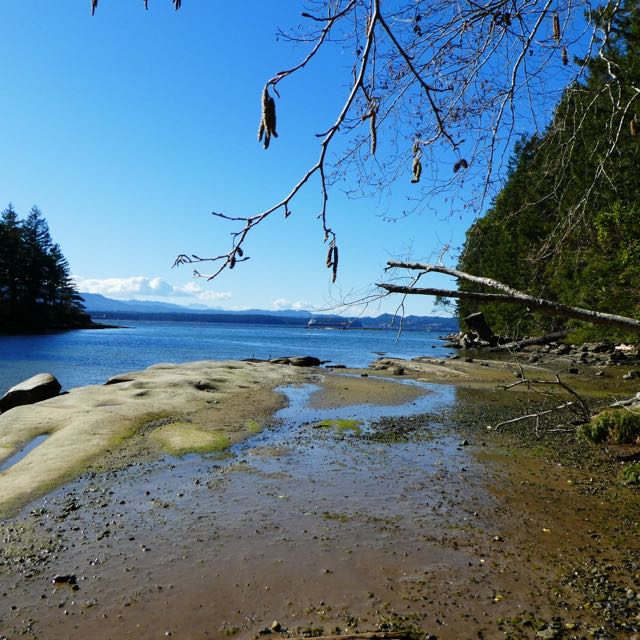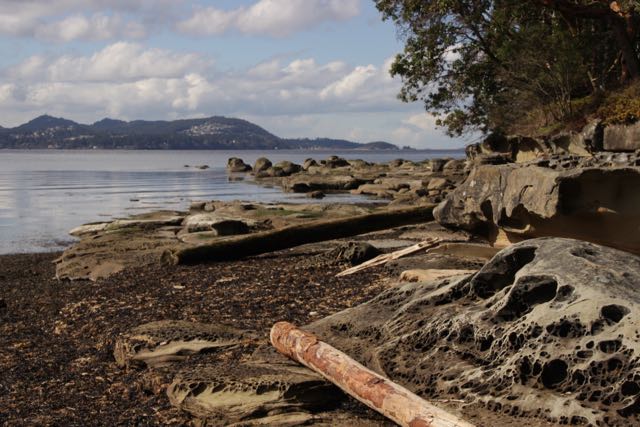 At low tides, large shelves of water-worn rock is unmasked. Covered in carpets of verdant green sea cabbage and grasses and a variety of molluscs, they're great for exploring, but very slippery. Jeanne has made it her mission to search the low-tide areas for sea-glass lying amongst the smaller tumbled stones and shells. There is a large tidal range in our little bay, but there are no waves around Gabriola Island or much of the inside passage. When we visited Orlebar Point recently, we heard a raucous commotion from another small island just off our coast. A huge colony of sea-lions lives there, and there was plenty of noisy fighting, chest beating and territorial dispute. Probably the bulls. But it may have been the cows; there were a lot of pups in the colony and we're reminded of the truism about never getting between kids and protective mums.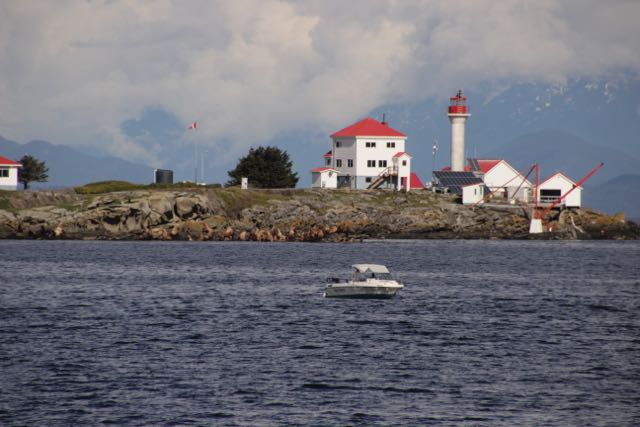 Entrance Island off Gabriola. Home to hundreds of sea-lions.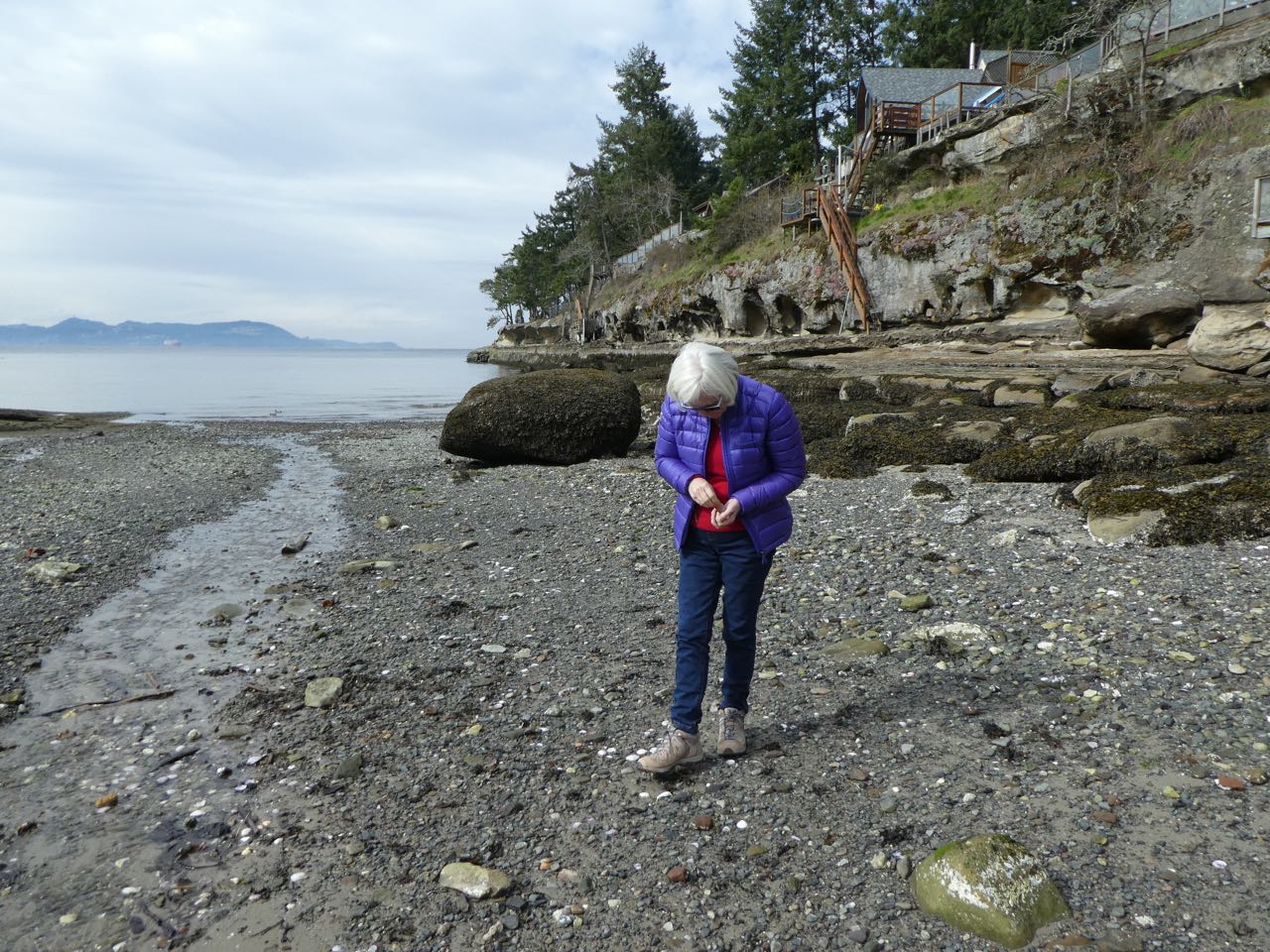 Looking for sea glass at low tide below our home.
Most people who visit the island want to see the Malaspina Galleries. We live within 100 metres of these amazing rock formations. Carved into the rock face by the actions of wind and water over thousands of years, these shapes resemble huge waves of stone crashing into the sea. They won't be there in the future, because the rock is soft and gravity will probably take its toll. Glad we got to see them before nature says, 'That's all folks."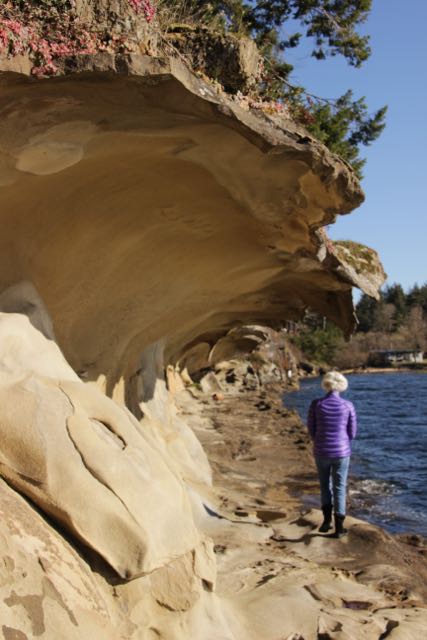 The Malaspina Galleries.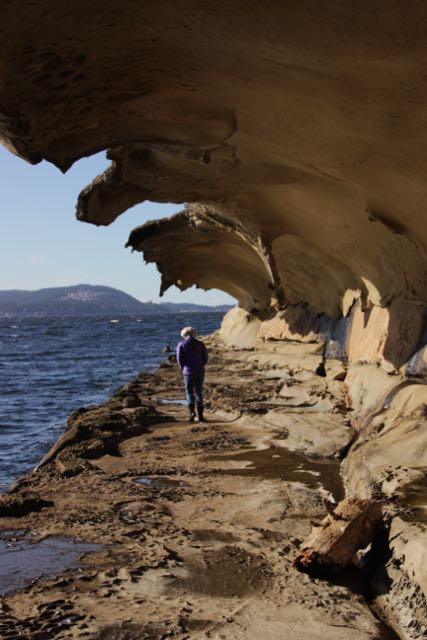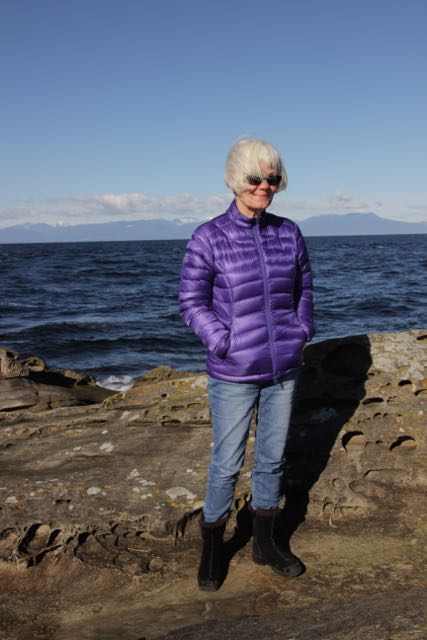 Living on a shipping channel, there is a constant stream of large ferries between Nanaimo and Vancouver, and other ports along the inner passage. It's fascinating to contemplate a busy highway network on the water, but that's the west coast of Canada. Seaplanes regularly buzz across our view from the living rooms of our home. I'm in awe watching their long, low descent path before their pontoons kiss the water ever so sweetly in Nanaimo Harbour. The Gabriola ferry shares the same piece of water as their landing path. Freighters lie at anchor between us and Nanaimo. Tugboats tow huge barges with railway goods carriages on the deck. Several days ago, we watched tugs towing huge rafts of floating logs that had been tied together. Churning across the Strait at the pace of a slug, they appeared to be at least 500 metres long. Hundreds of these logs must unshackle themselves and escape to freedom as the shoreline of much of Gabriola island and British Columbia is littered with washed-up water-worn logs. In fact we see them floating in the sea, bobbing fugitives from a date with a sawmill. Surely there's a children's book title in there, 'Bob, The Washed-Up Log.'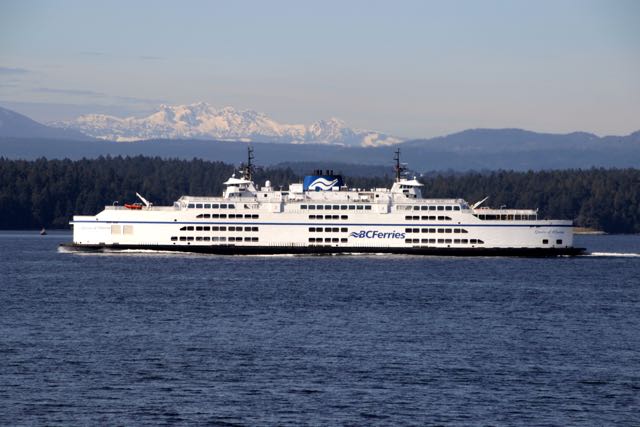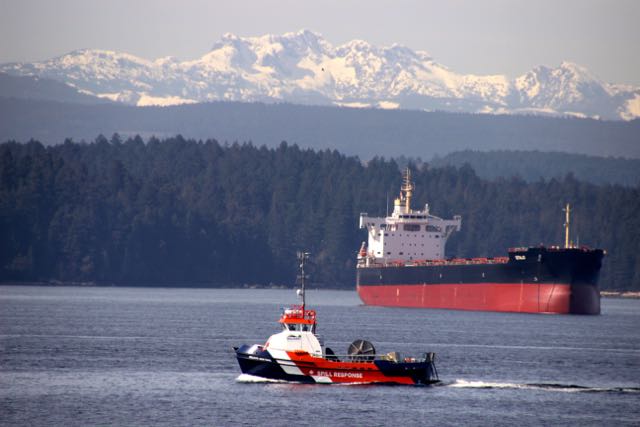 Watching the shipping pass by our home.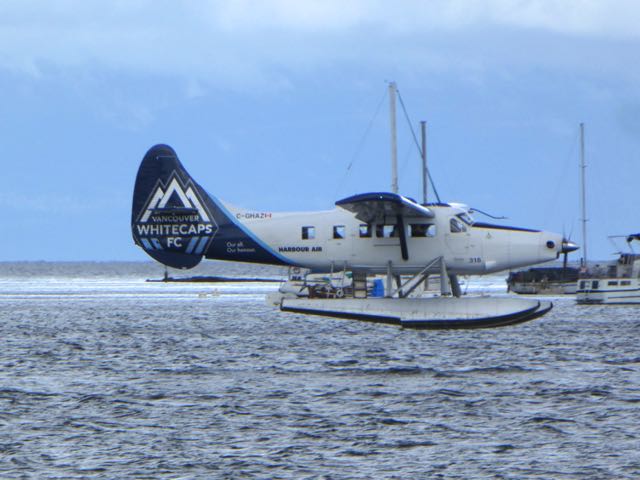 Two pontoons about to make a watery embrace.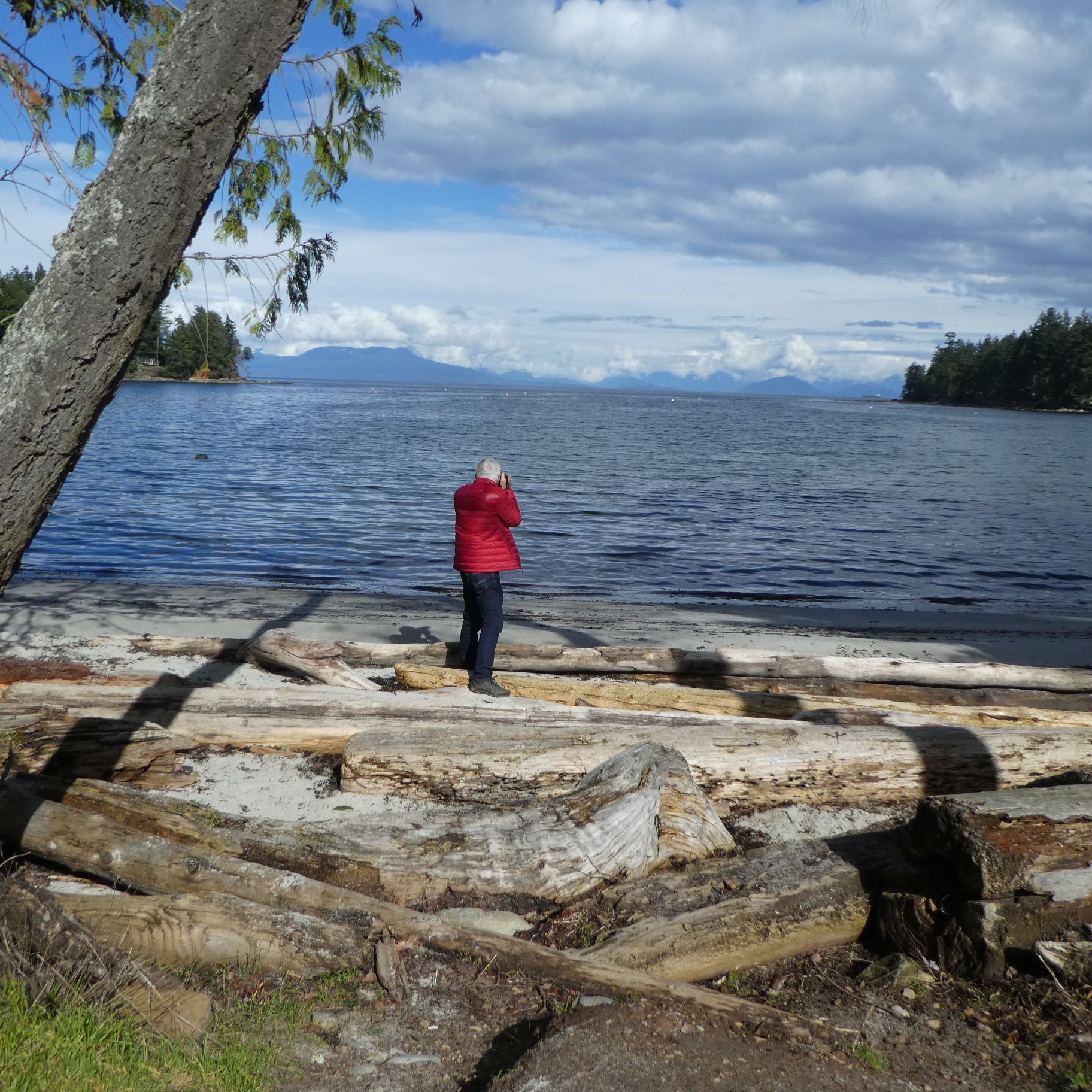 Despite a frenzy of timber felling in the 1980s, the majority of Gabriola Island is still heavily forested with tall douglas firs, red cedars, balsam firs and alders. It's difficult to see the woods for all the trees when we've been walking on some of these trails. Sometimes we've been within 50 metres of the Salish Sea, but not seen it. Dark, moist, muddy and mostly un-signposted trails criss-cross the island. Our newly acquired $5 map of Gabriola Walking Trails cautions hikers that it is easy to become lost. We understand why, because paths veer off from other paths in heavily wooded areas with no signs or trail names in the inland parts of the island. With my eyes firmly fixed on the trail map, I missed some fascinating natural features, but there was no way I was going to become lost. At one point we laughed tentatively about news headlines pondering the disappearance of a pair of Australian pensioners. And the chances of crossing paths with a drug-fuelled psychopath, or a commune of six-fingered island hillbillies who had never made contact with the outside world.... and played banjos.
But the only on-trail contact we made that day in an isolated section of the woods was with a man and woman walking 3 werewolves on leashes. As we approached them, the woman stopped and stepped sideways off the trail, leaning over the beast she was leading. The man passed by us restraining his two werewolves, soothing them with gentle talk as we passed by, "Easy, Fang. Whoa, heel, Cujo." Twenty metres further on we tentatively passed by the woman stopped on the side of the trail, restraining the largest of the 3 werewolves. As if by some innate sense of kill-or-be-killed, as we passed her the beast snarled, snapped and lunged at us. The woman quickly jerked backwards on the restraint, screaming, "Sit, Satan, sit!" Quick thinking Jeanne Panini snatched up a 3 foot length of jagged, fallen branch from the forest floor and waved it menacingly.
"And what you gonna do with that?" hissed the woman restraining Satan who was now dripping long strings of saliva and choking as it strained at the end of its taut leash. Her quick thinking paid off handsomely. Jeanne Panini spun swiftly and slammed that length of branch with a sickening thud across my kneecap and bolted to safety further up the trail. I fell like I'd been slammed by a falling sack of potatoes. Satan, momentarily blind-sided, now took a renewed interest in me, writhing on the ground, sobbing uncontrollably, and clutching a shattered patella. Fortunately, the woman had regained control and was able to drag the beast down the trail in the other direction, still snarling menacingly.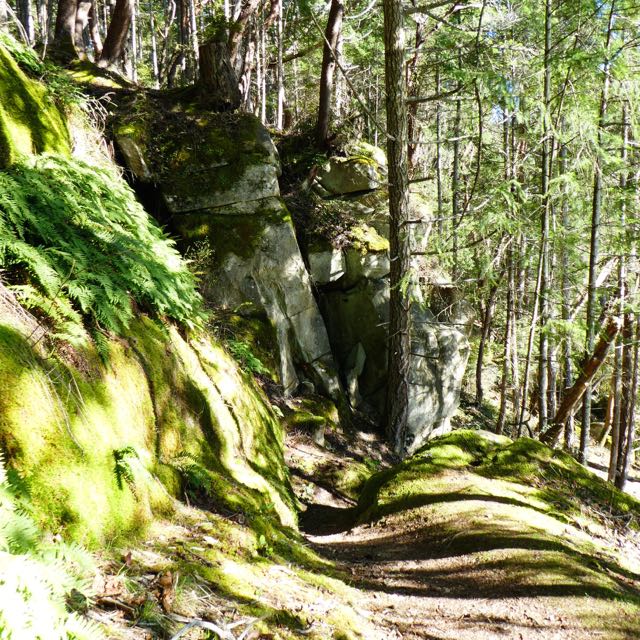 It might be easy to pass judgement on Jeanne's action, but she demonstrated quick thinking and great bush sense. Survival of the group depends on protecting the smartest and quickest thinker. In hindsight I have forgiven her. Also, upon reflection, the werewolves might have been 3 yapping poodles. And perhaps I was severely dehydrated because of the cracking pace Jeanne had set, and this all happened in my head. Bushwalking on Gabriola is throwing up all manner of the unexpected. Yeah, I'm enjoying the carousel ride!