3rd April 2018.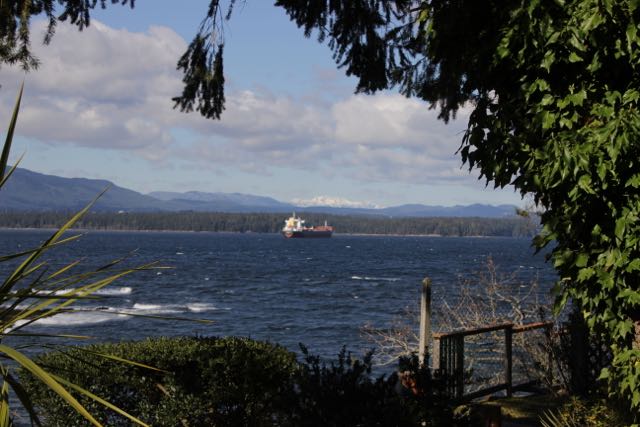 I know there's a frenetic world somewhere out there. Perhaps international relations are unravelling, stocks plummeting, egos driving policy. But slouched in an Adirondack chair late afternoon, that world is seemingly in another time, another galaxy. I'm in a reflective mood. Navel gazing is the sport du jour on Gabriola Island and I'm training hard. I'm a contender and I want that gold medal.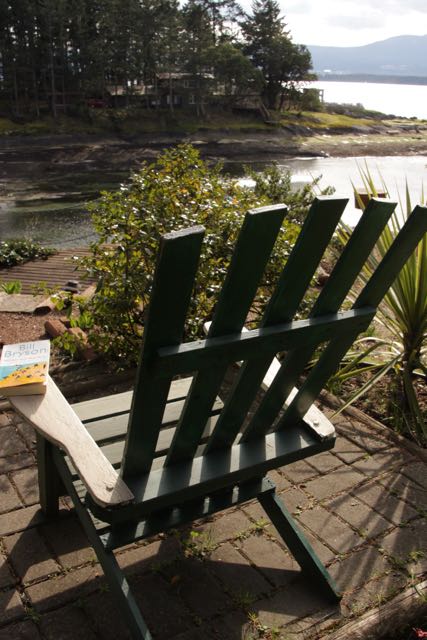 My office for a month.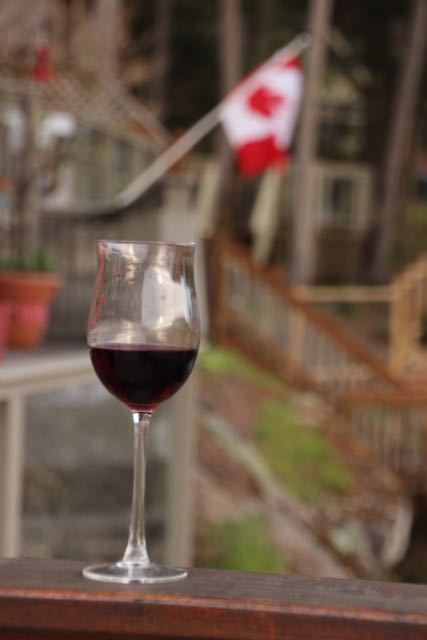 Below me there's a slap of water on rock shelves as the water depth gradually inches its way upwards in response to the 13 foot Easter king tides. A fresh breeze whistles through the firs and cedars which surround our home and mask our neighbours. Someone across the inlet is splitting wood for their fire. The smacking sounds of a block axe carry sharply across the water. I know it's not me. My smacking sounds come from the lips. I replace my glass of cabernet on the arm of the Adirondack. Mmwaa. Someone is topping up their firewood shed in anticipation of a forecast of more rainy days. Canada has its East coast and its 'Wet' Coast. Gabriola ain't on the East.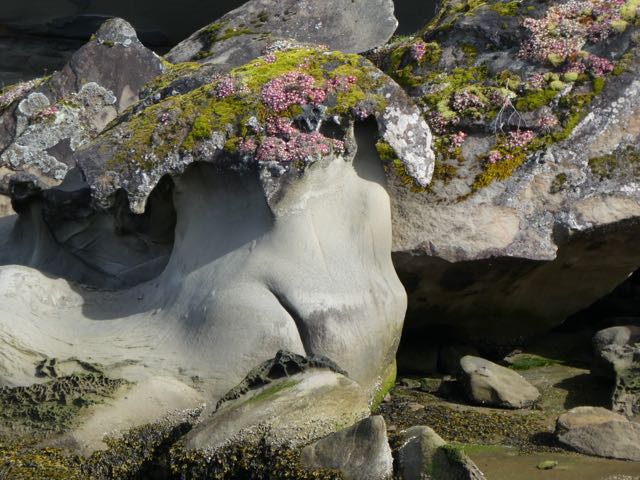 Wind and wave sculpture.
All day, birds of prey have circled monotonously around the treetops near our home and the adjacent seashore. A large eagle soars around the inlet looking for an easy meal, seemingly oblivious to the two gulls which swoop it repeatedly. To the eagle, they would be as threatening as a pair of blowflies; a minor irritant. The valiant gulls squawk angrily, while the eagle mutters quietly, "Go ahead, make my day." Earlier, I watched a hawk land on the sea cabbage below me and tear repeatedly at something it had scavenged. That raptor beak and powerful talons were fascinating to watch. I think it was the remains of a dead sea-otter which had washed ashore. It's a tough world out there, and existence can be fleeting if you're not vigilant. With a shiver, my reflections soon returned to the cabernet. That was fortuitous because two huge bumble-bees were showing an interest in the aromas coming from the glass. Proof that even the top of the food chain needs to remain vigilant.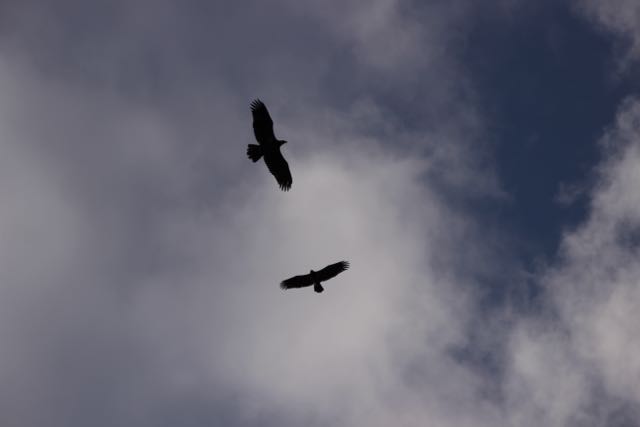 In my previous post I mentioned that I'm besotted by the water transport in the Salish Sea. Today, while beachcombing at low tide, I happened to look up and was greeted with a perfect tableau of water transport. Visualise this: three large ferries were converging, two to Vancouver, one to Nanaimo; four freighters lay at anchor in the background; a small Seaspan tugboat swept past in the foreground; in the very distance, several yachts were rounding Protection Island and running with the wind; and, overhead, a single-engine seaplane droned by on its descent into Nanaimo harbour. The backdrop was a snow capped mountain range. How do you top that? I didn't have my camera with me but it's a vignette indelibly etched into my head. I almost wept at the wonder of it all, and needed to quickly share this vista with Jeanne who was up in the house. Scrambling over the rock shelf, I began the climb up the series of narrow steps which wind up the cliff-face, connecting our home with the seashore. I was in thrall until something wet, white and sticky struck my head and shoulder. Splat! A large bird had shat on me! The magic of the moment was lost.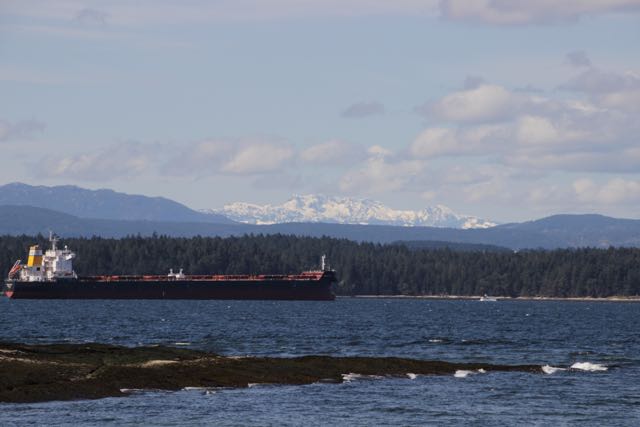 Freighter at anchor, Strait of Georgia.
A fortnight ago we rolled the weather dice. With two sunny days forecast before another change, we took the ferry across to Nanaimo, then drove 3 hours across to the west coast of the big island (Vancouver Island) to stay at Tofino while the weather held up. There's several mountainous passes between Nanaimo and the isolated Pacific rim towns of Tofino and Ucluelet; and the small rental car doesn't have adequate snow tyres. Getting back through those slippery passes was a priority.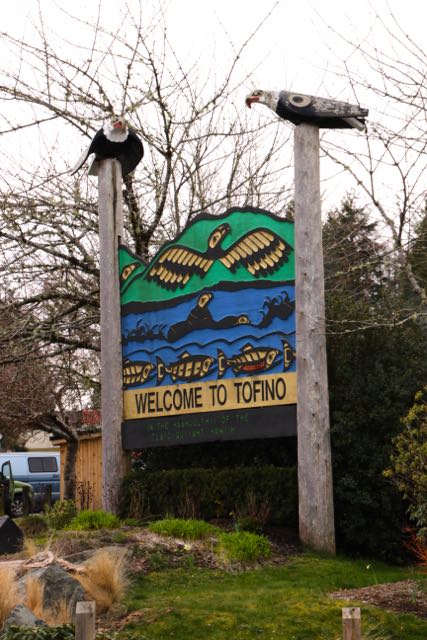 Tofino has many billboards to welcome visitors. They also have numerous other advisory signs. These include reminding you that you're staying in a potential tsunami area, and what to do in the event of a tsunami. The advice is even in your hotel room. Basically they ask how long you can tread water, or how high you can climb, or something like that. Ucluelet has the same signs. For an Aussie, it's difficult to believe there's a surf culture in such a cold climate. Tofino is backdropped by ranges of snow-covered mountains, yet many of the stores cater for surfing, board hire etc. Most of the beaches are millponds due to the protection of a series of small islands off the coast. Under the right circumstances though, and at the right angle of the swell, a couple of its beaches pump. If you're still keen to surf with pods of orcas, and the threat of tsunami, it's advisable to wear a 1 inch thick wetsuit to minimise hypothermia. Surfing's not for sissies in Canada.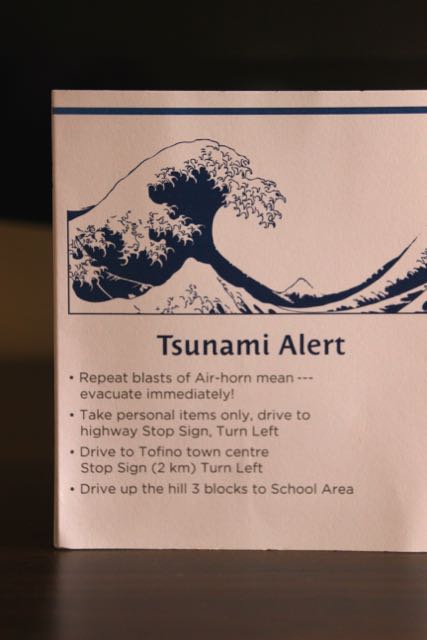 Warning in hotel room. View of the 'surf' from our room at Tofino.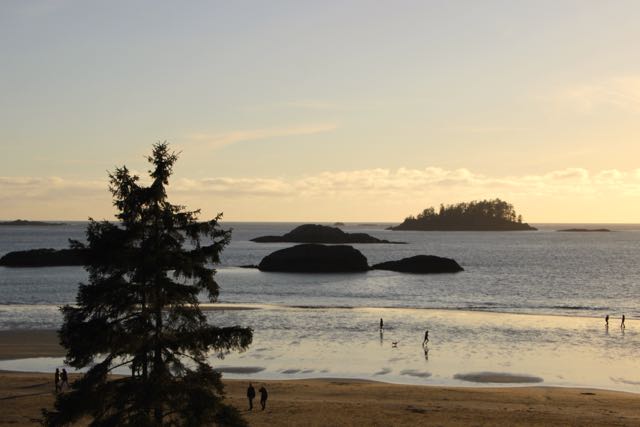 Forty km south of Tofino lies the small town of Ucluelet on its own peninsula. It's a charming, water-oriented town, quiet and less touristy than Tofino. Team Panini sampled the delights of Zoe's Bakery at Ucluelet - freshly baked fare and freshly ground coffee – before heading to the Amphitrite Lighthouse and the lighthouse loop trail. What a find! A one hour walking circuit around a windswept rocky headland with moss covered rainforest almost down to the waterline. The views along the trail are spectacular. Bobbing in the waters near the lighthouse, a bell-buoy and a whistle-buoy provided a backdrop of nautical sounds as we passed. In the event of nil visibility due to fog or storms, seafarers could listen for the bell and the low moan of the wind generated whistle-buoy to navigate through the channel. Since 1905, sailors have used these navigational devices, keeping the moan on the right and the bell on their left when returning to safe anchorage in Ucluelet.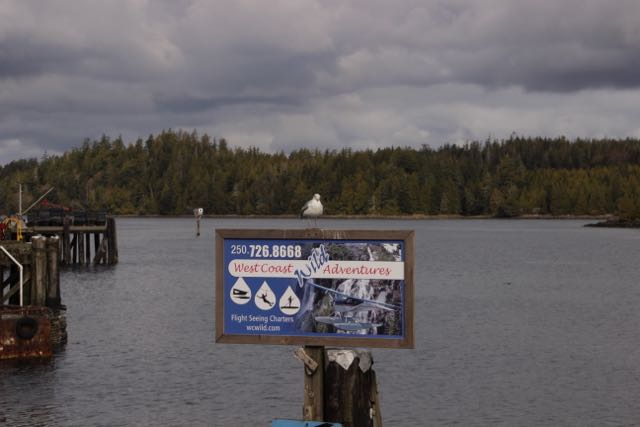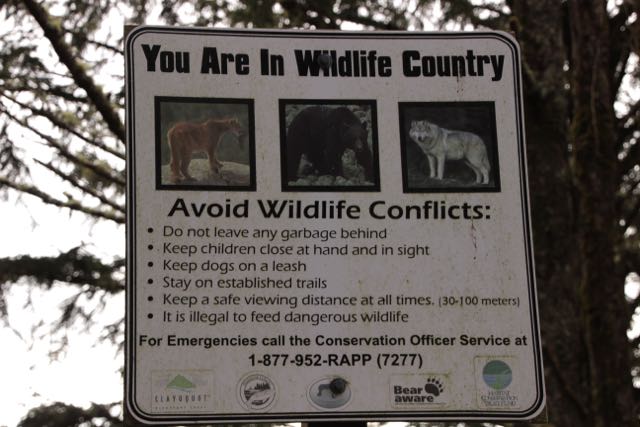 Scenes around the Amphitrite Lighthouse loop trail.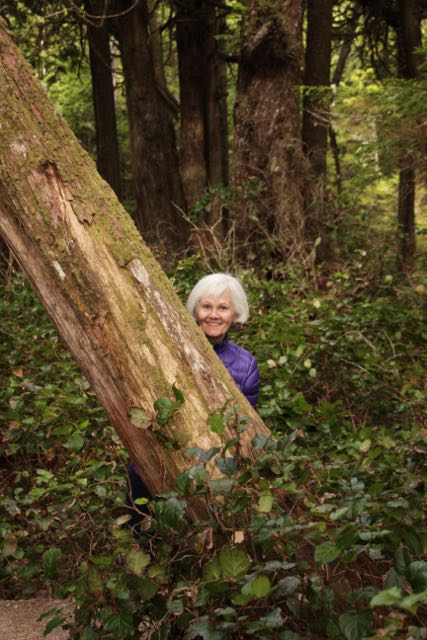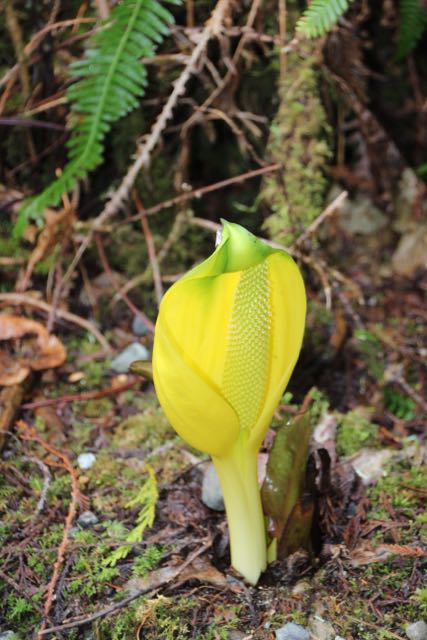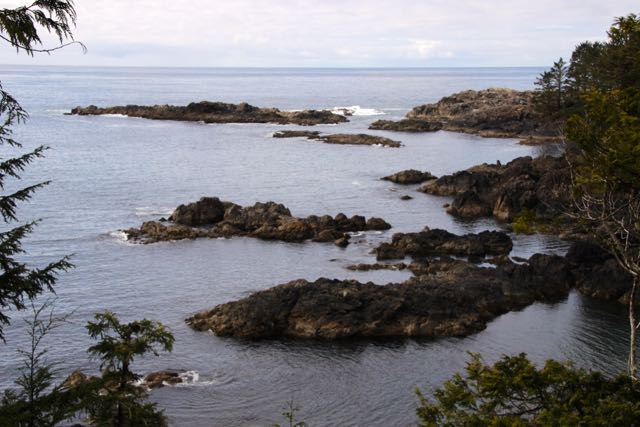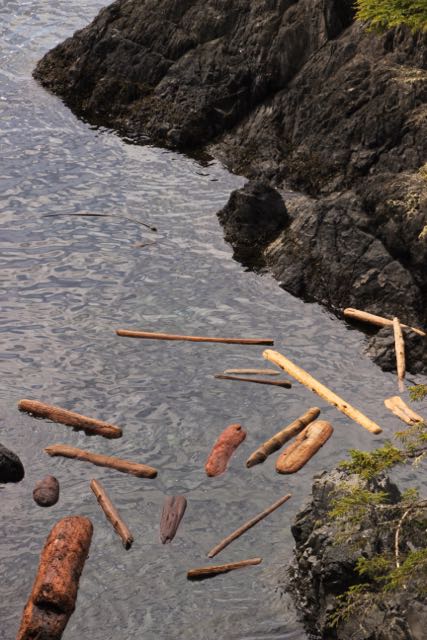 After completing the trail and in need of caffeine, we walked the small town, stopping to talk with a young artisan couple who had recently opened their own Huu-Mees-Ma-As gallery. He's a sculptor of First Nations carvings and artifacts, and also a part-time teacher of First Nations languages at tertiary level. They were incredibly enthusiastic about their projects and gave us a lot of their time and a wealth of information about carving and indigenous languages. I felt bad that I'd only purchased a T-shirt bearing his totem, rather than an actual carved pole. I blamed Air Canada's checked luggage policy for my meanness.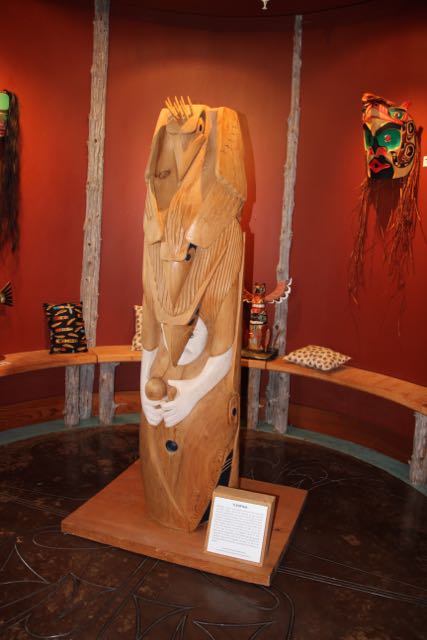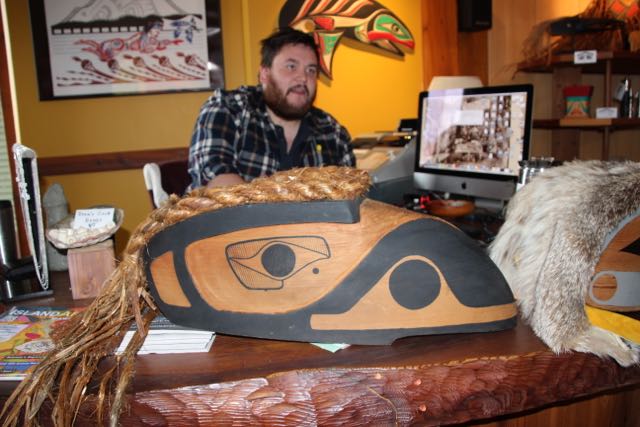 Many of the forests in B.C. are extremely tall and old. On our return from the Pacific rim towns, we stopped at Cathedral Grove. It's a national park where some of the largest trees are 800 years old. Walking the short Cathedral Trail felt primeval. The forest floor is dark and wet, and everything, I repeat everything, is covered in moss and green lichens. The only things missing were a partial fog, dinosaurs and other creatures sliding out of the primordial ooze. Perhaps Tourism Canada could see to that. And maybe a coffee shop.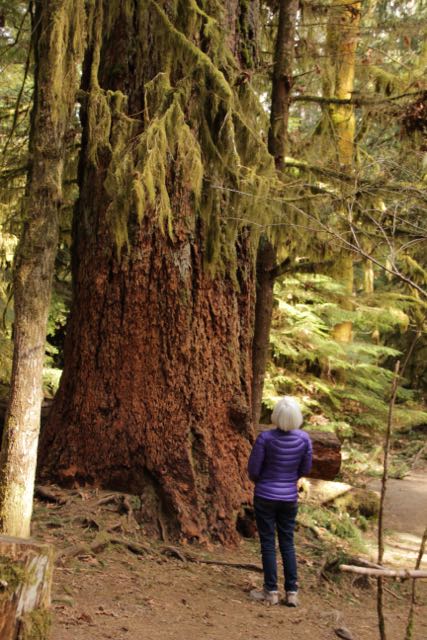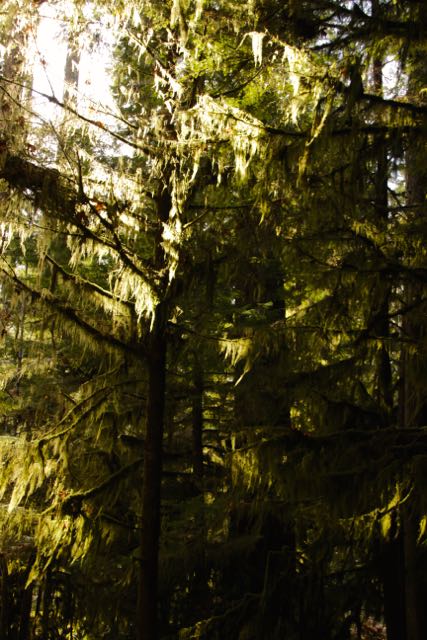 Jeanne Panini has spent a day furiously knitting in front of the fire, sparks flying from the tips of her needles. Her mission is to complete a jumper before we leave the island and return to Australia. Reading a book and watching the Gabriola ferry-cam on her iPad are the rare breaks she gives herself. In her previous life in Australia, she watched movies and documentaries. But watching live-streamed vision of queues of vehicles waiting for a ferry has overwhelmed her. We've now had it happen to us twice in one week – every vehicle ahead of us got onto the ferry, then down came the boom gate. A 2 hour wait! It's messed with her head, but the ferry-cam is putting her back onto the front foot. She's cross-referencing the clock and the length of the queue for different ferries. Never again will this Panini be messed about by a ferry crewman with a glow-stick.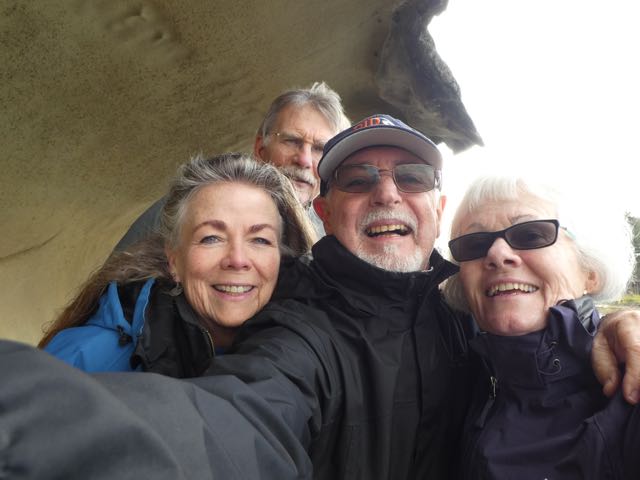 Selfies with stalkers at Malaspina Galleries, Gabriola Island.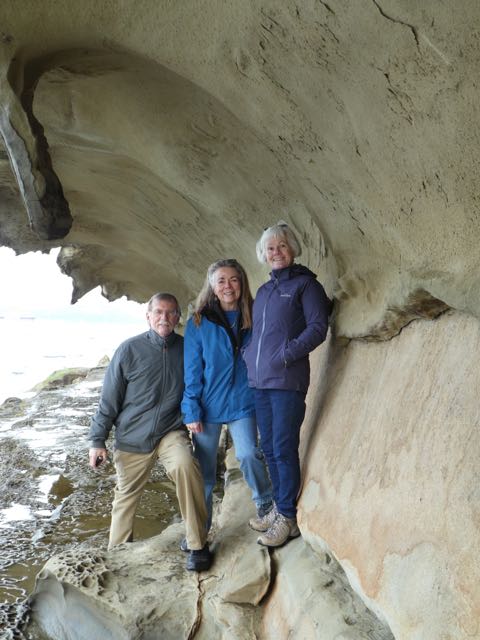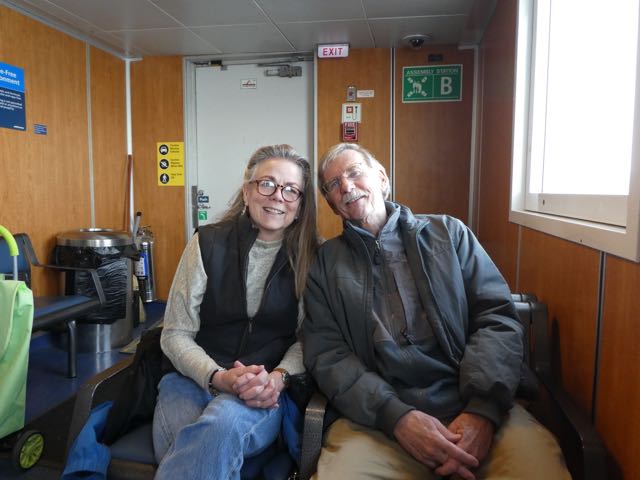 Our Denver "family" has recently returned to Colorado. No, they're not the mob. Susan and Jeff are kindred spirits, fellow travellers. We go way back to 1993 when they had a year on a teaching exchange in Coffs Harbour, NSW. We've often travelled together, and met regularly in subsequent years. A week ago they flew to Canada and joined us for 4 days on the island. Cerebral discussion, non-cerebral discussion, walks, wine o'clocks, night markets, food and kicking back. Every world problem was addressed. All were solved. It was great that they came to share our island experience with us, although it was way too short. I fear Jeanne's ferry-cam fixation may have messed with Jeff's head while he was here. One could almost hear the palpitations and exhales of relief in his text message advising us they were finally aboard the ferry returning them to mainland Canada prior to their flight home. I foresee Jeanne and Jeff in ferry-therapy (ferapy) sessions. "The ferry is my friend. The ferry is my friend."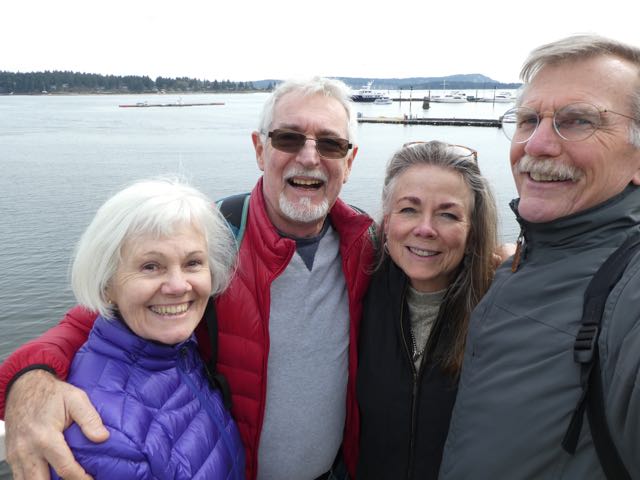 Real friendships transcend distance apart.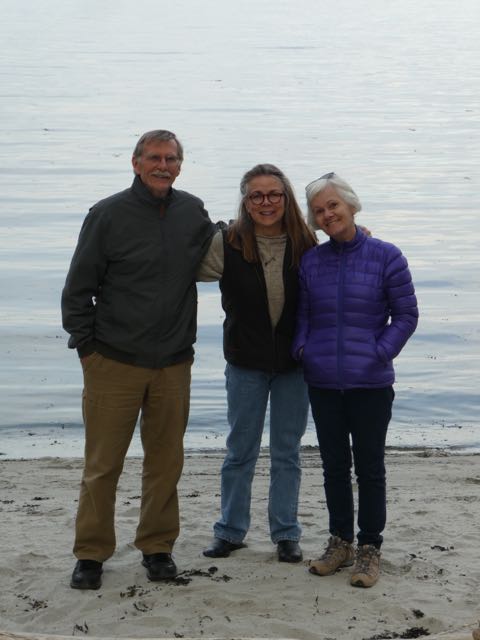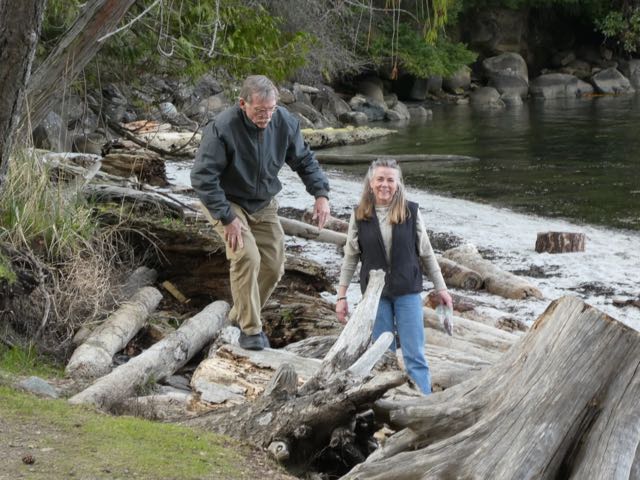 Americans behaving badly. Jeff does a knee while Susan is impaled on a length of driftwood.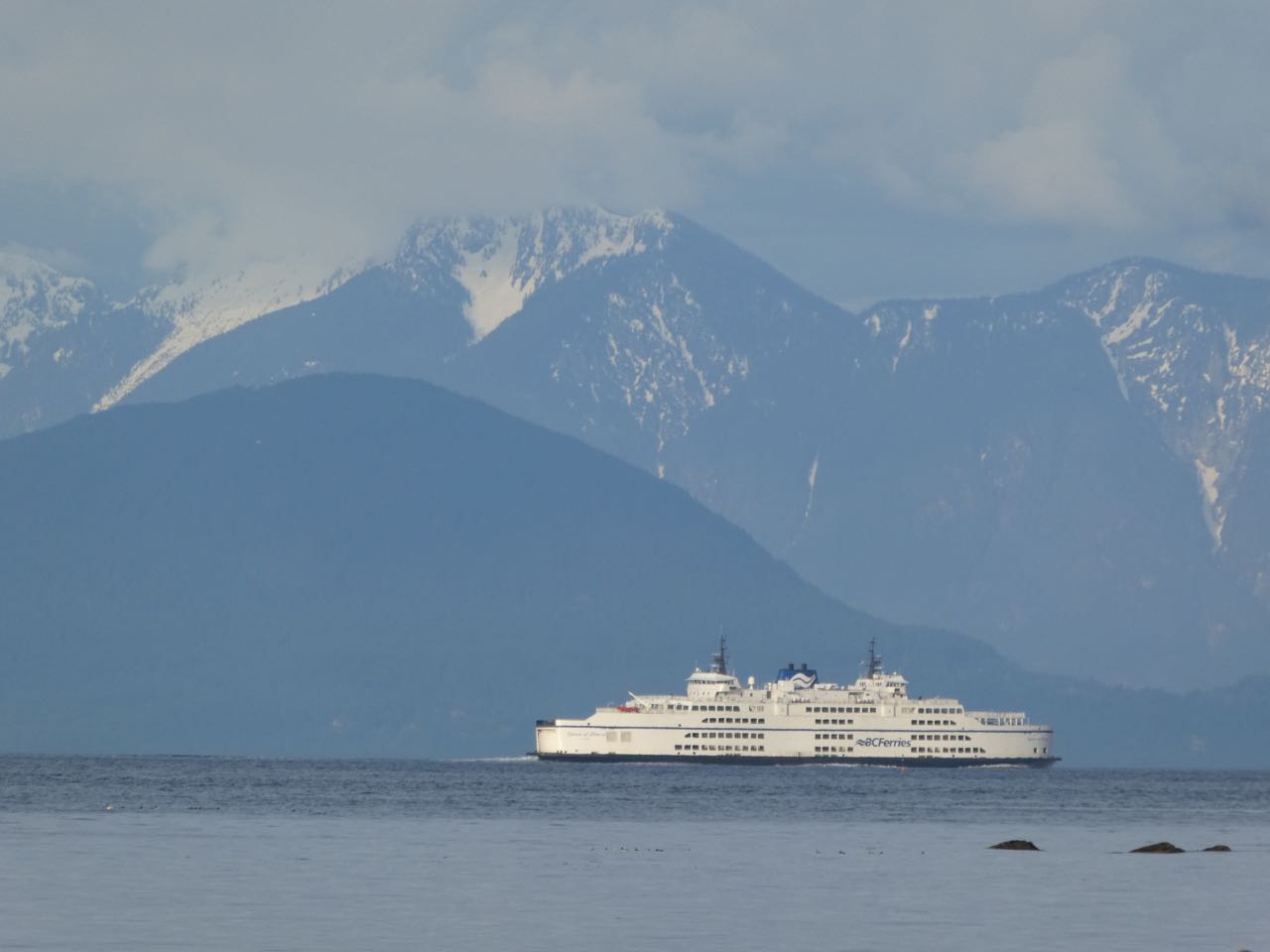 Nanaimo to Tsawwassen ferry. The ferry is my friend. The ferry is my friend.
But it's evening now. I abandon the Adirondack on the deck, I've had a busy day reflecting. The thrumma… thrumma… thrumma of a cargo freighter's engines knifes monotonously through the chilly night air somewhere in the Salish Sea off our island. The darkened sky is clear, and the lights of Nanaimo, 5km across the water, send rippling tentacles of refraction across the Strait of Georgia towards our waterfront home. But there's an ominous haze over the fullish moon; the weather forecast is for 3 or 4 days of rain later this week and perhaps some more spring snow showers in the range behind Nanaimo. Think I'll pour another glass of red and retire to the front of the fireplace. Maybe I'll reflect some more. Do you reckon I'm a contender?