The Paninis do Whistler, B.C.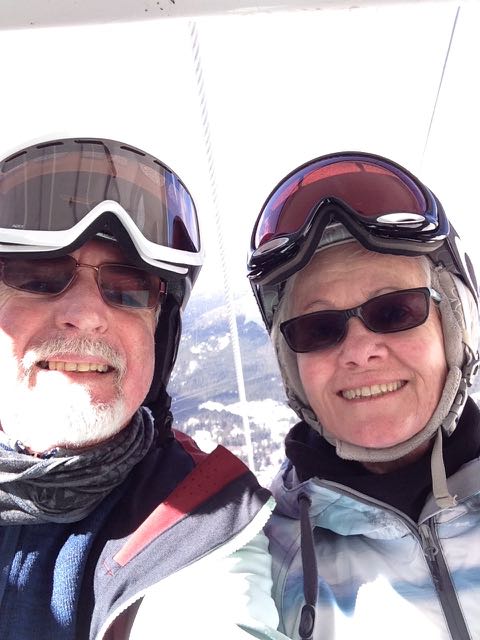 The buzz from skiing probably rates somewhere between an inner glow to outright "off ya chops." Despite being an expensive activity, flipping back through all the times and places I've been lucky enough to be on the slopes, I don't recall any skiers ruing not being at the office. There's an adrenalin rush in challenging and conquering the slopes, at whatever degree of difficulty your skills allow. That's the beauty of snow sports, the personal satisfaction of the novice can be the same as the whooping 20 year olds shredding down black diamond mogul runs.
But this 65 year old man doesn't whoop as much as the 20 year olds. Maybe testosterone and whooping are linked. I've uttered strangled whoops milliseconds before a face plant. Or when I've inadvertently found myself on a black diamond mogul run, I've expressed loud, drawn-out whoops of "NOOOOOOO! NOOOOOO!" If you can imagine the whinnying of a distressed horse, you're following my drift. After several hours of skiing, my knees are usually screaming silently, but I'm beaming inwardly and my eyes are smiling. Yep, it's still a huge thrill and sense of achievement.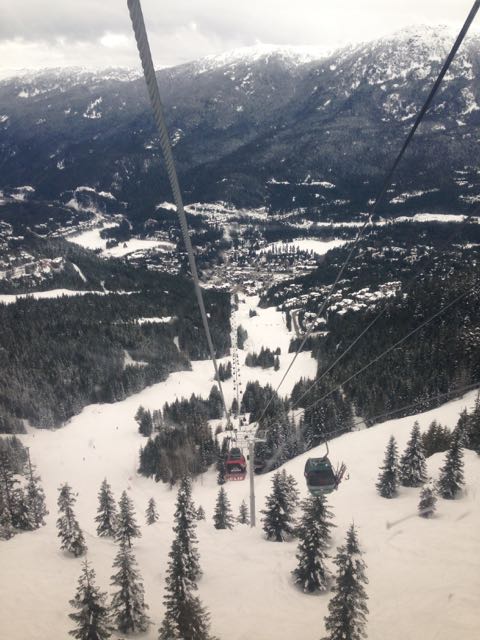 Whistler Village, the home of the 2010 winter Olympics, is nestled away in the snow-covered mountains 2 hours north of Vancouver, Canada. Its gondolas and chairlifts service a huge number of ski runs on Whistler and Blackcomb Mountains. It's one of the largest ski areas in British Columbia. The Paninis (Pardy and Nene - us) were offered a home exchange in Whistler for 12 days.
"Yessss!" whooped the fist-pumping Paninis, as though they'd just heard that aged-pensions were to be increased.
"Yessss!" whooped son Adam and daughter-in-law Nat, spontaneously scrabbling around checking the condition of their snowboards.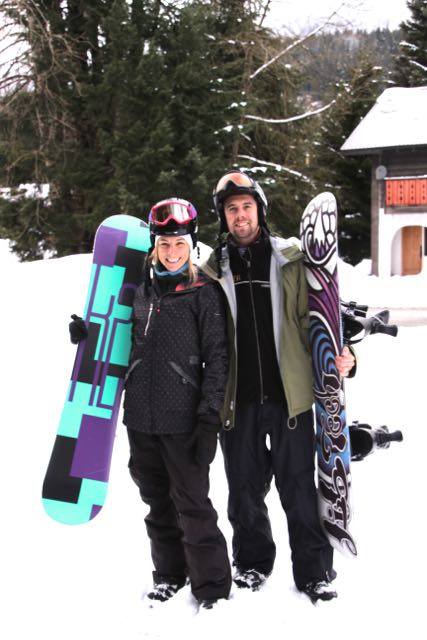 "Yessss!" gurgled 11 month old grandson Jackson, spontaneously releasing a long trail of drool in delight. "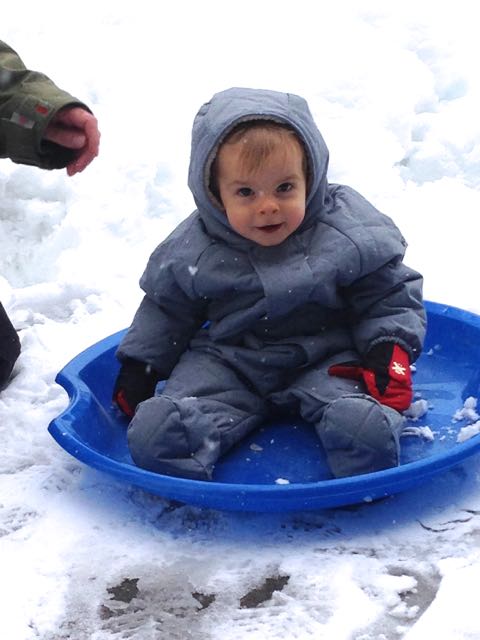 "Yessss!" hooted son Joel, eager to trade the surfboard from his recent trip to Sri Lanka for a snowboard.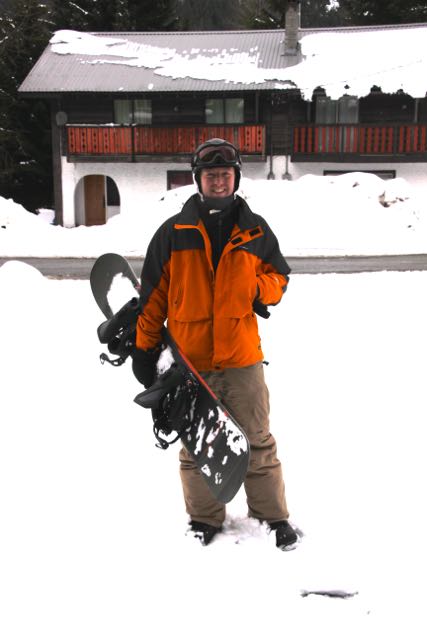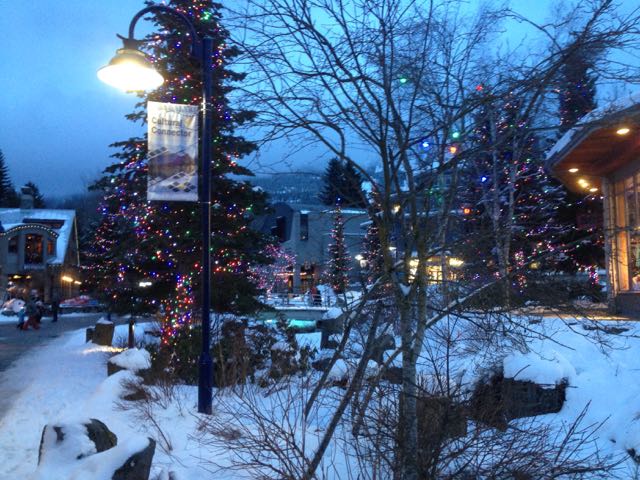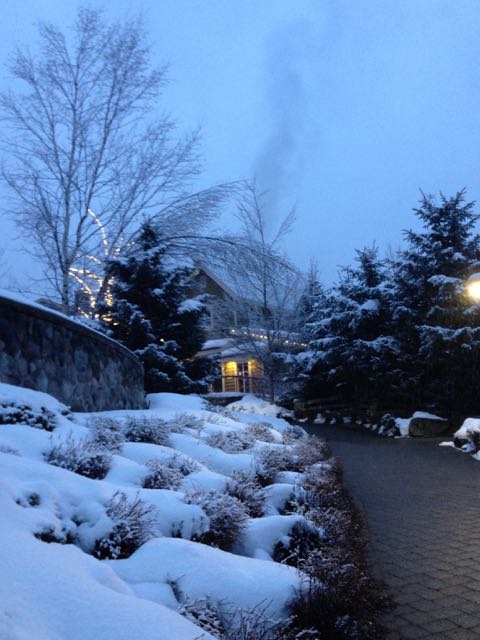 Creekside is a quieter area of Whistler serviced by its own gondola. The Paninis don't mind 'quieter.' Not sure what the rest of the team thought. After a couple of nights in snowy downtown Vancouver, a shuttle bus whisked us northwards through a world of white along the shores of Howe Sound. This stretch of freezing water sits smugly surrounded by sentinels of huge, brooding mountains cloaked entirely in an eerie white. At Whistler, we took possession of our 3 bedroom exchange apartment, coated with the plumpness of fresh snow, and located at the base of Mt Whistler. One of the great things about home exchange is the cost factor. Accommodation in Whistler requires mortgaging an arm and a leg, but for us it was nix. Five adults and a baby accommodated in a premium position in one of the world's most desirable destinations (winter or summer) for a big fat zero. Of course, we'll have to move out of our home later in the year when the Canadian family arrives in Coffs Harbour to reciprocate.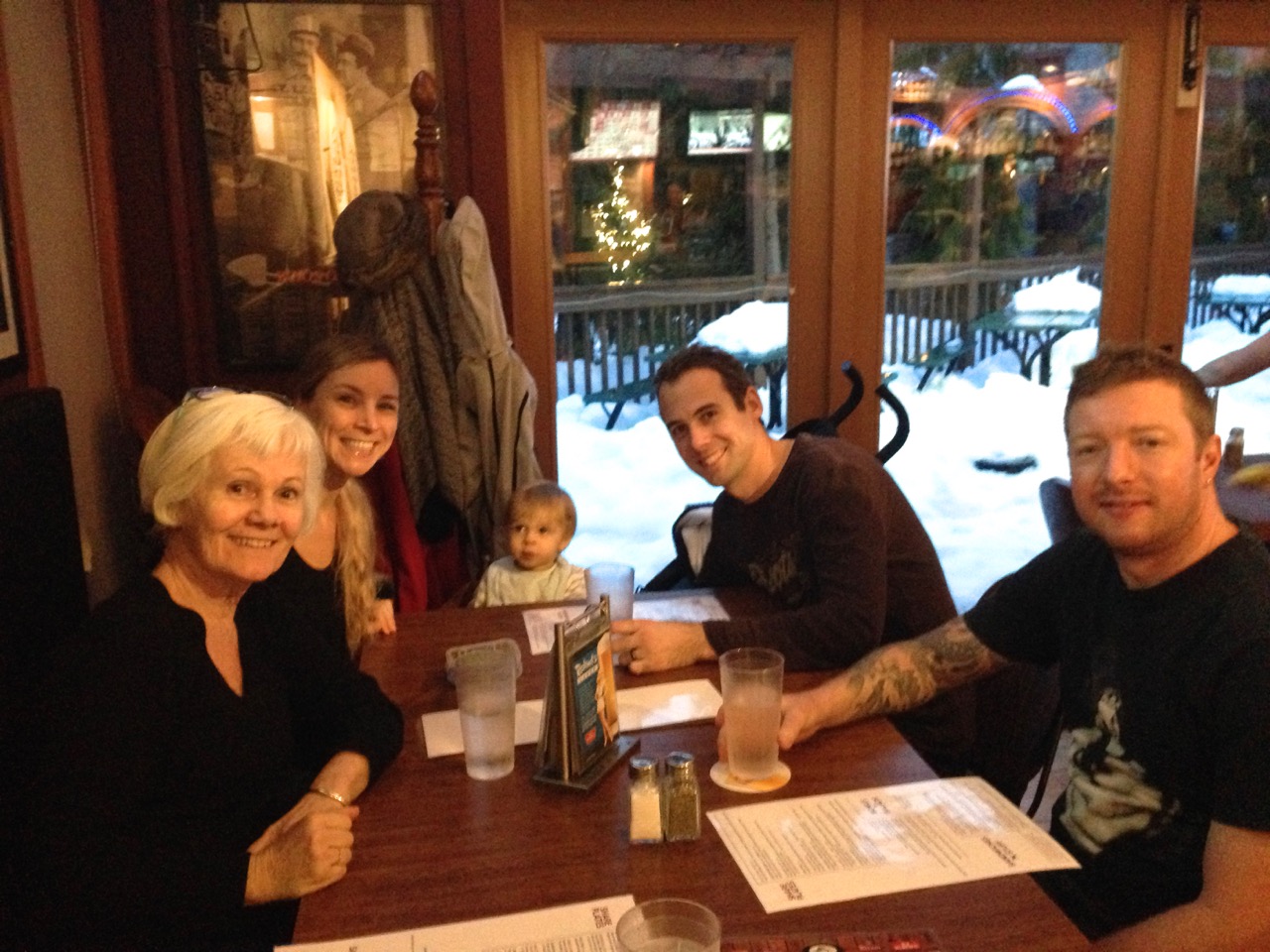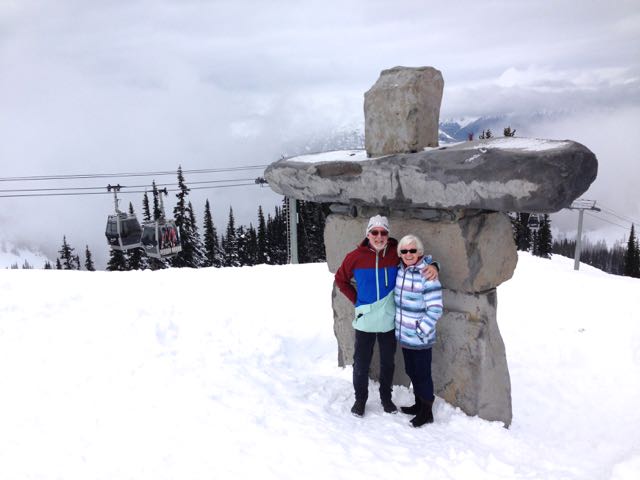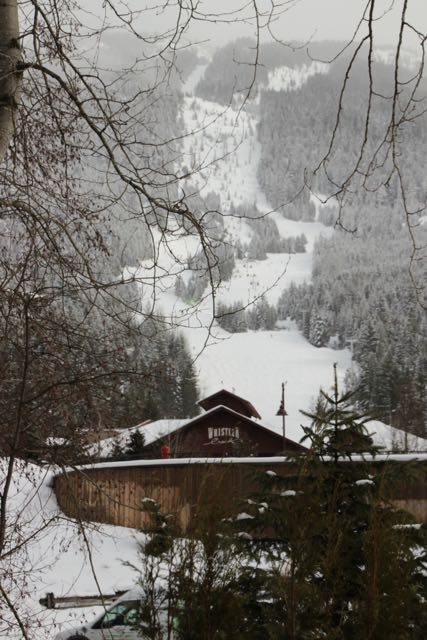 For 12 unrushed days we skiied, read, talked, ate in, ate out, enjoyed happy hour at several local bars, and were entertained by Jackson. He has discovered that walking is a more visually stimulating form of mobility than crawling, and he regaled us with constant streams of experimental vocals as he rehearsed talking in gobbledegook. We heard Mum, Dad and Joel all making similar noises when they returned after a night out. Each of us succumbed to an obligatory cold or flu upon arrival, although Nene fared the worst and had to curtail her time spent skiing. This had an upside, as Nene and Jackson had a lot more quality time together and allowed Nat and Adam to have some time together on the slopes.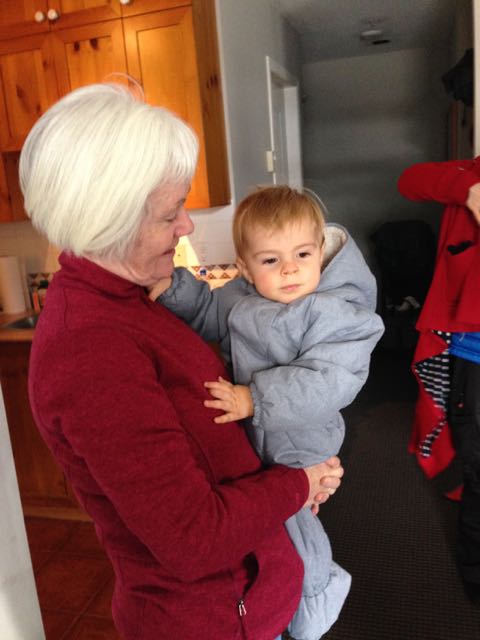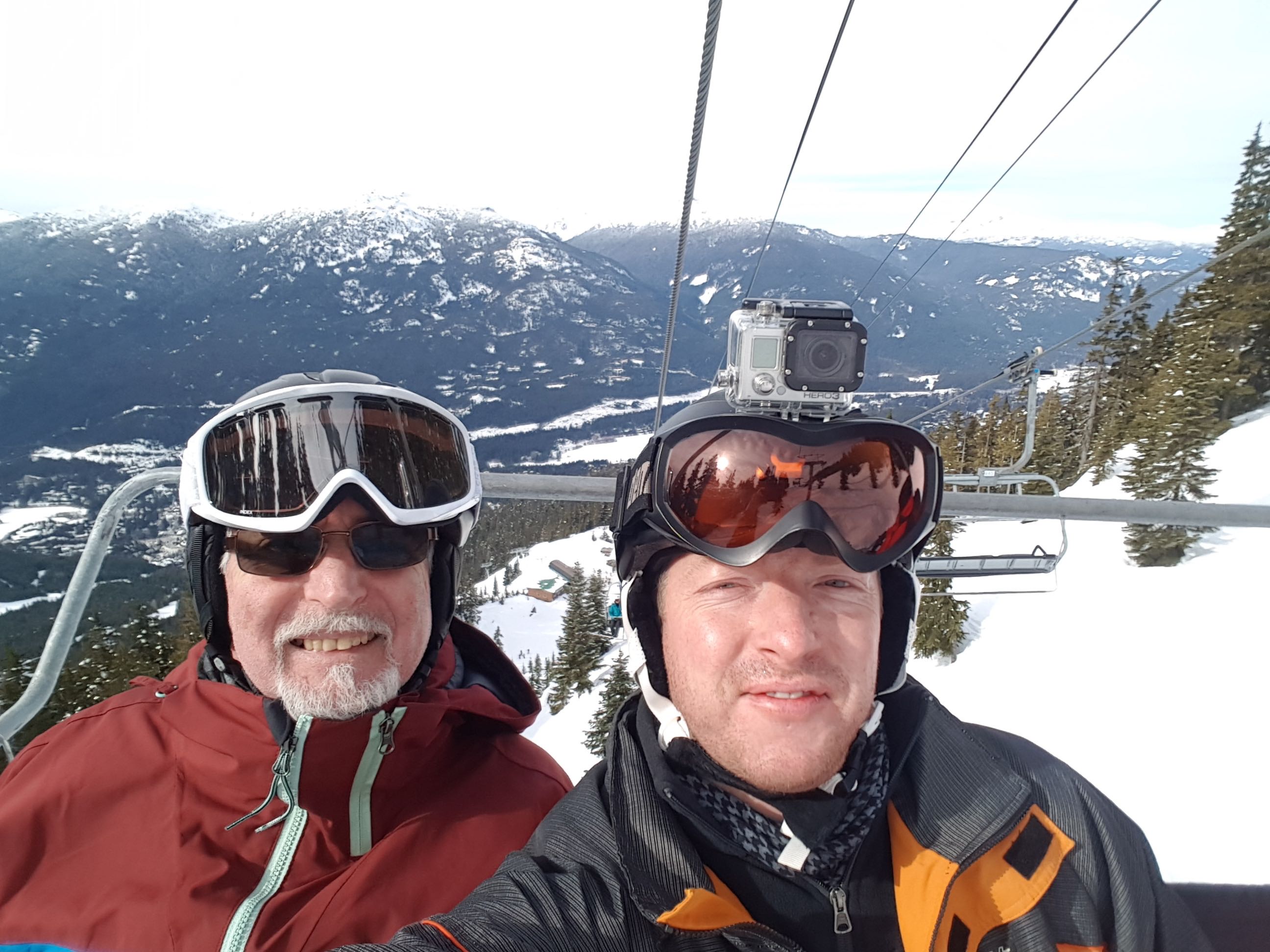 At the peak of Mt Whistler stands a solitary, stone Inukshuk. It's one of a few around the area. With a stunning 360 degree view of the world on a clear day (which we jagged), this huge rock structure cuts a lonely figure. It's coated in snow and ice, and the wind has bent the ice outwards from its body so that horizontal stalactites of ice appear to defy gravity. It takes 3 lifts to reach the peak, but is a majestic viewpoint weather-permitting. Skiing back down was a little precipitous and kept one singularly focused!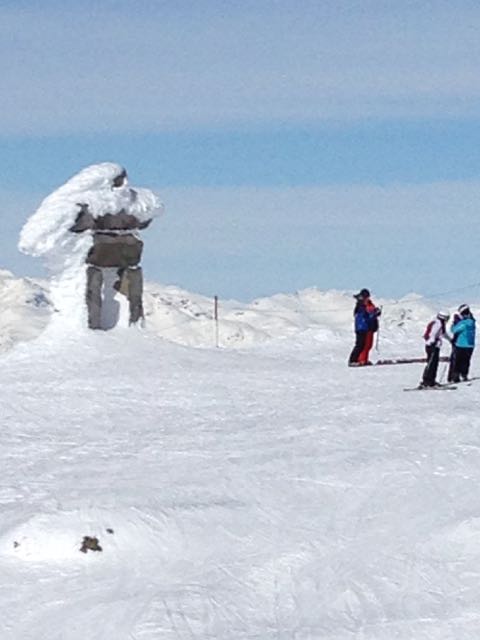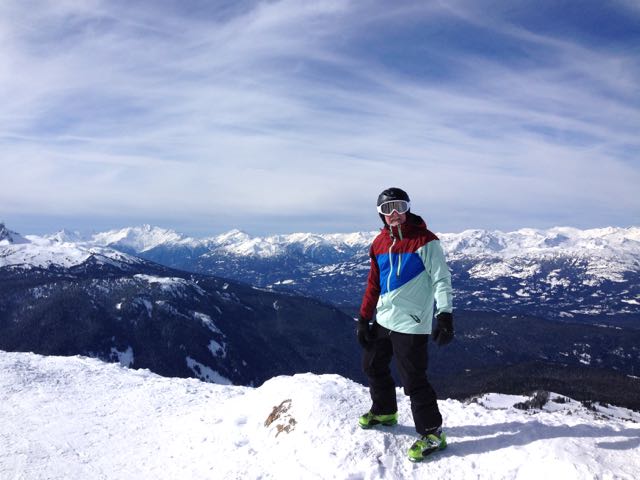 There is also a Peak to Peak gondola between Mt Blackcomb and Mt Whistler. Foot passengers are allowed as well as skiers, so Nat and Adam, Nene and Pardy took Jackson across the 4.4km valley. It's a long way down to the valley floor, and the view downwards looks like that from an aeroplane. Jackson has racked up more air miles than Nene and Pardy in the last 11 months.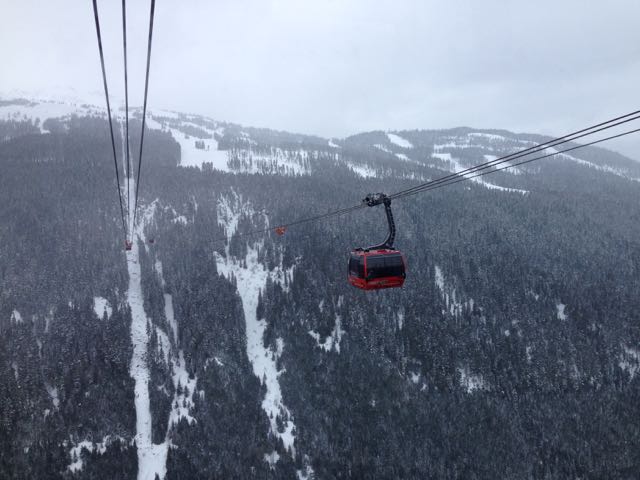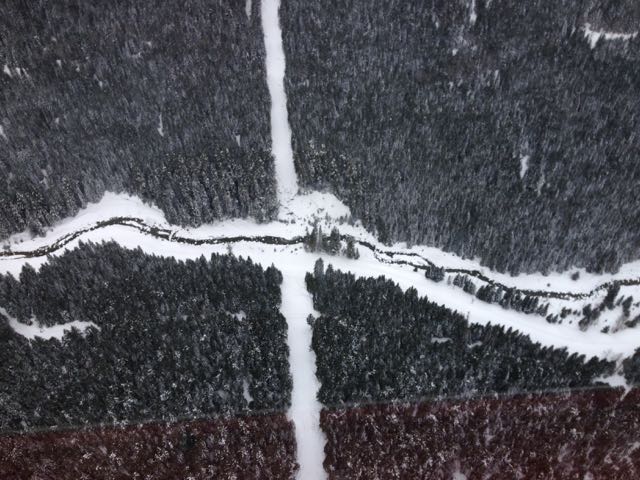 The sports channels on Canadian TV were seemingly dominated by ice-hockey and curling! You couldn't get 2 more differently paced sports and national obsessions. The rules of hockey are obscure. My understanding is that you furiously skate around in random circles chasing a black bar of soap (puck) that has been hit so hard nobody can see it, spectators included. Along the way, you have to body slam as many opposition players as you can, and if you see any teeth that are still inside a mouth, you have to beat them with a stick. One night in Vancouver, we all trooped down to Rogers Arena to support the Vancouver Canucks who were playing a team from the USA. Despite the hideous noise, cheering, booing, music etc, the Canucks lost and somehow Jackson slept through it all.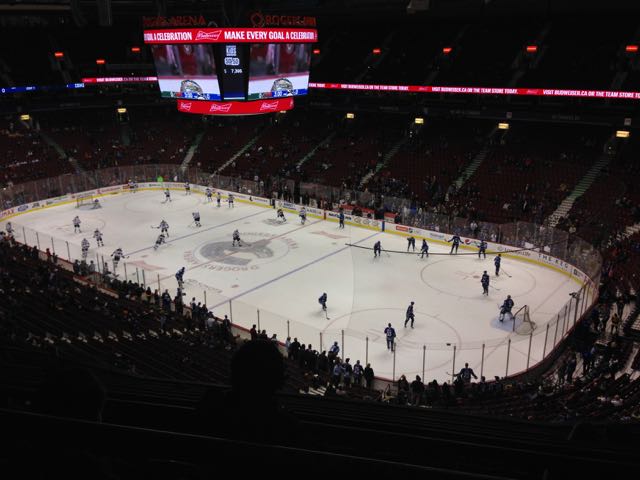 Curling, on the other hand, seemingly has as much action as knitting. Perhaps less, although the assistant knitters begin furiously sweeping the ice as their round cob of sliding bread slows. It's nice to have clean, hygienic areas to slide one's bread cob. After watching several nights of the national curling competition on TV, I wondered aloud whether the action could be ramped up a few notches by combining some of the elements of hockey. Body slams on the opposition etc. But, then again, participants might drop a stitch.
One afternoon at Whistler, I was sitting under the gas heaters with crowds of other chattering, exuberant skiers outside Dusty's Bar, at the base of the Creekside gondola. I noticed a predominance of grey hair and weathered skin at the table beside where Adam, Joel and I were quietly enjoying an après-ski beer. There was certainly some very experienced hair in that group. I had to ask, shy fellow that I am. They were all men and women in their mid 70s and one man was in his 80s. I shook his hand enthusiastically. He winced ever so slightly as he popped his shoulder back into its socket, and I thanked him for inspiring me to keep going with the skiing even when my body whines. I hope I can inspire people in the future.
Some more visuals.